Education
Support our teachers
I'll work hard to make sure federal education programs and dollars are spent wisely and decisions are made by local, trained educators not some bought-and-paid-for politicians.
Pre-K, public education funding, teacher pay, trade programs, and student loan debt are top educational priorities.
Fund Special Education

Teacher pay raises to national average

Fully fund public schools

Pre-K funded nation wide

Student Debt Tax Credit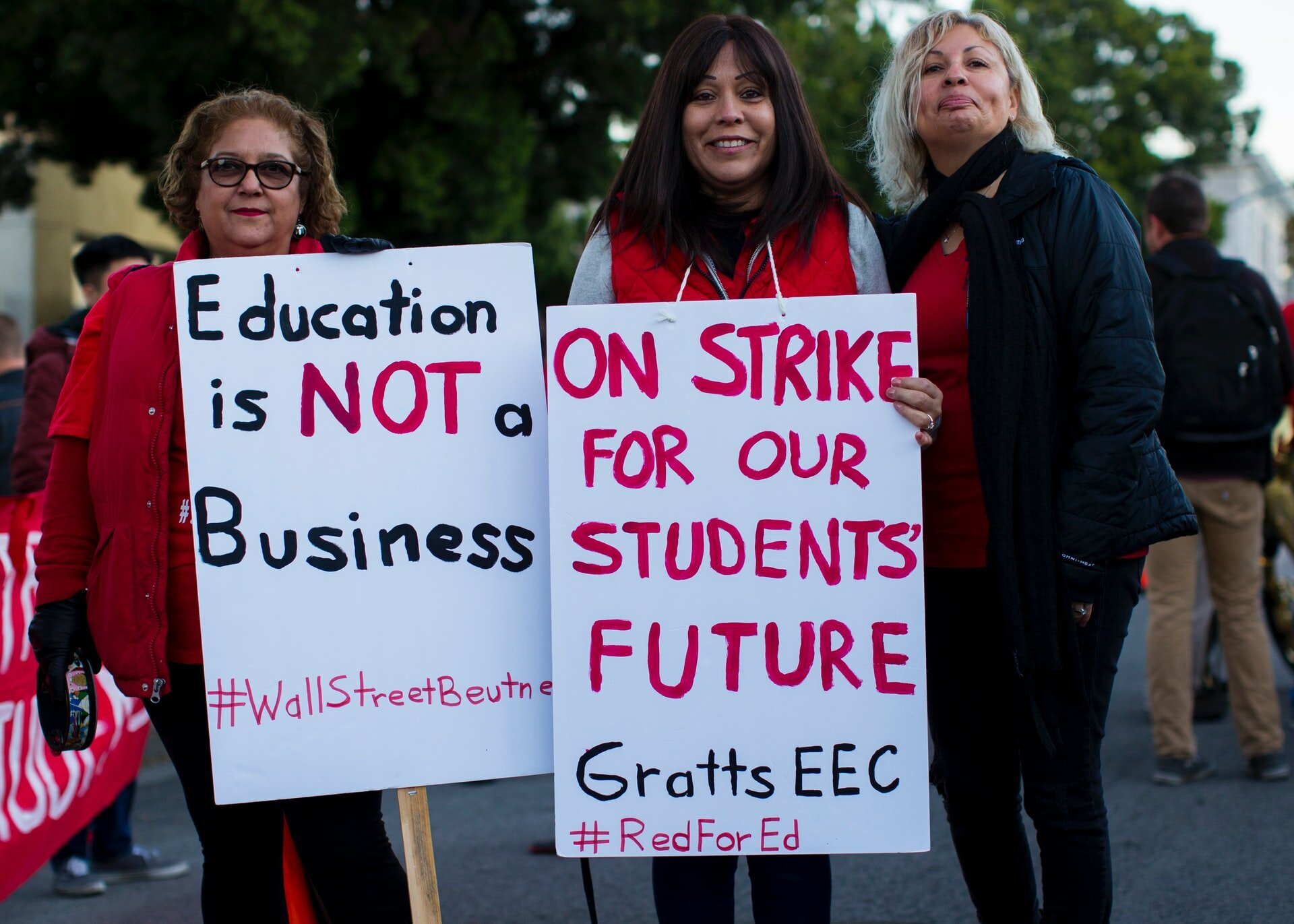 My Education Proposal
Public Education is a Top Priority
As the son of two retired Arizona public school teachers, I was raised with an understanding of the importance of education. As a father of a four-year-old and a three-year-old, I can relate to the high cost of pre-K and the families who have to choose between a parent working to cover the costs of daycare or staying home to raise their children. As a small business owner, I know the challenges businesses face recruiting and retaining educated and skilled workers and I know how an incapable workforce impacts business growth and customer relations.
I know that when parents say they want "school choice," they're looking for options to ensure their kids have access to the best educational opportunities available, whether from public, charter or private schools. I know state efforts to redirect tax dollars away from public schools to charter and private schools actually reduces the ability of public schools to function properly and offer special needs programs not available at charter or private schools.
This is why I am proposing the following Federal education legislation to better focus federal grant and programmatic dollars and better serve all of Arizona's public schools and students. Education will be a top priority of Muscato For Congress.
Support Funding for Special Education
I support fully funding the Individuals with Disabilities Education (IDEA) Act, which provides a student-appropriate public education that focuses on their needs and prepares them for future educational, employment and more of life's exciting opportunities. The majority of students enrolled in Arizona's ESA Voucher program qualify for special education services and have left their public school due to insufficient programs or diminished resources. Children with disabilities deserve access to a world-class education, just as every child does. Once elected, I am committed to fighting for funding special education at the federal level to ensure that ALL students can thrive in their neighborhood public school. How we treat those in need reflects the character of our nation and the moral compass of the American people.
Teachers Deserve Competitive Pay
Unfortunately, our students are not the only ones politicians have taken for granted. Arizona public school teachers have for too long been underpaid, underappreciated and overburdened by our state legislators and Congress. According to the US Dept of Education, the last time Arizona's teachers made more than the national average was 1969! That's 50 years ago.
​
When I get to Congress, I will sponsor a bill to ensure public school teachers across the country are paid no less than the national average, which, in 2017-2018, was $60,000 per year. Arizona teachers were paid an average of $48,000 per year. My bill will take a maximum of one cent of every federal tax dollar and grant it to the states to standardize teacher pay nationwide. Whatever amount wasn't needed will revert back to the Treasury.
This proposal would raise approximately $1 billion dollars annually to Arizona and would not only fund teacher salaries, it would also support the needs of special education and school counseling programs. American voters have already indicated they would support such a program and no one has yet made the effort to implement it. I will. Education should not be a partisan issue and our country cannot afford to fall behind any longer in this highly competitive global economy.
Invest in the Future of Arizona
No child should be hungry and no child should go without education. We must protect and fund our Title 1 programs. Our nation's future is in the hands of our children. Our national debt, world conflicts, and climate change has been thrust upon their generations shoulders due to the failed policies of leaders such as my opponent. Let us at the very least provide our children with the resources and education necessary to solve the problems and issues previous generations dumped on them. The world is changing and economies are now globally competitive. We must prepare all of our children with the skills, values, and work ethic needed to compete throughout the world.
Pre-K Funding
As young parents of two ourselves, my wife and I can relate to the high expense of childcare and the burden it puts on a household logistically and financially. The greatest nation in the world shouldn't be one that forces parents to continue to work just to afford having someone else watch our children in their most important developmental years. Parents should not be forced to choose between working and raising their children. By fully funding public education to include Pre-K, our children can develop stronger intellect while our parents can put more money into our economy or their own financial security.
Student Debt Tax Credit
It's no secret that many college graduates are unable to buy homes, start businesses or raise families because of student loan debts they incurred in order to go to school or obtain a degree. At the present time, only a maximum of $2,500 in college loan interest is deductible on federal taxes. None of the principal is deductible. We need to change this in order to incentivize college and university enrollment, and to further educate and prepare our workforce.
Once in Congress, I will introduce a bill that will allow anyone who has attended any level of post-secondary education, including trade schools, to apply a percentage of their student debt as a 100% deduction on their federal taxes. The percentage will be equal to the amount of federal tax owed by the student during that calendar year. For example, if a student owed $25,000 in federal taxes and had $100,000 in student loan debt, that student could use up to $25,000 in federal tax deduction credit for that year. This deduction can be used until their total student loan principal has been paid off. The program does not forgive the debt, it simply motivates people to attend college and allows them to keep more of their money early in their career when every dollar helps.
Our future and our children's education is always worth fighting for.